The project manager is the control center in your Xpert-Timer. Open the project manager via your time bar,
or by right-clicking on your Xpert-Timer icon in the taskbar:

By default, your Xpert-Timer ships with the following panels:
1.) Projects: Here you can see the list of your projects. There are many grouping, categorization and filtering options available.
2.) Tasks: This is the list of your tasks. Here too, the grouping, categorization and filter options are available as in the project list.
3.) Timestamp: Here you can see the individual timestamps for your projects.
Depending on the modules purchased, you will see a list of possible windows at the bottom of your project manager. You can show or hide these windows by simply clicking on them.
In the respective list, you can use the menu item "View" to select the timestamp list, the task list or, for example, show the services / costs in a separate window. Just choose "Open in own window". This gives you a better overview, especially if you have collected a lot of data in the Xpert-Timer.
Save views
After you have grouped and filtered data the way you need it, you can save that view in the timestamp list, to-do list, and benefits / costs. Thus, you can return to your filtered view with a mouse click. To do this, select "View" and "Save as" in your list and assign a meaningful name.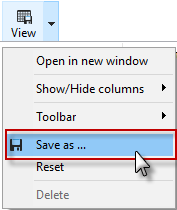 This view is saved as Employee Hours Month June.

To display the data again, simply click on View and then on the button "Employee Hours Month July".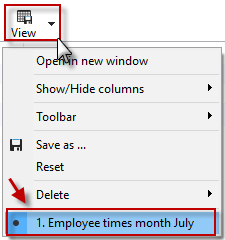 With a right-click in the menu area of the timestamp list, as well as the task list and the services, you can choose whether you want to see the saved views. To show the views, simply click on "button bar for views" in the selection menu.
You can also show or hide the line for quick entry by right-clicking. Fast entry allows you to create a task, a project or a time stamp supplement in one line.
Functional Overview
With a right-click on your menu bar, you can display a function overview of the symbols in your project manager: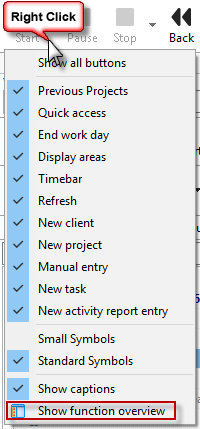 If you are familiar with the Xpert-Timer after some time, you can hide the label of the buttons for the sake of clarity. Click on this in the menu bar with the right mouse button and remove the check mark in the menu item "Show labeling".

You can also influence the look of your Xpert-Timer a bit. So it is possible to adjust the color of the project manager or to select from some colors. To do this, right-click on the colored bar in the Project Manager: