| | |
| --- | --- |
| | This is the next number of your next quote. |
| | Decide how many leading zeros your quote number should include. |
| | This is your prefix of your quote number. You can use numbers or letters. |
| | You can edit all fields of the template in the report generator of "Fast Reports". Please note, that this is an external product and we give you hints on using it, but we don't offer full support. |
Edit your quote template
You can edit your quote template by hitting the edit button in the above dialog. Please note that the report generator is an external product. Every time you edit something, you should first create a backup of the file you edit. Just save the edited file under a different name. Please also only change the SQL queries, if you really know what you are doing. A change might result in malfunction of the template.
You can also edit the template directly in the dialog, where you enter your positions / items for the quote. If you fill the quote with data and then edit the template you get a better overview of your changes.

You might get an error message for missing fields in the "Code" of the template. You need to comment the according lines with // (two slashes), until the template works again.
If you double click a field, you can edit the text.
To preview your template hit F9.
Every time you click on an object in your template, you can edit the properties of that object on the left side.
Please note, that you shouldn't edit the data bands itself or the SQL queries. If you want to hide an object in your template, click on the object and set the property to "Visible" -> False. This way, the object won't display in your report. Hit F9 to check the setting. Remember to also sett the fillers in the DetailData and Child to "Visible" -> False, otherwise the data won't be displayed correctly.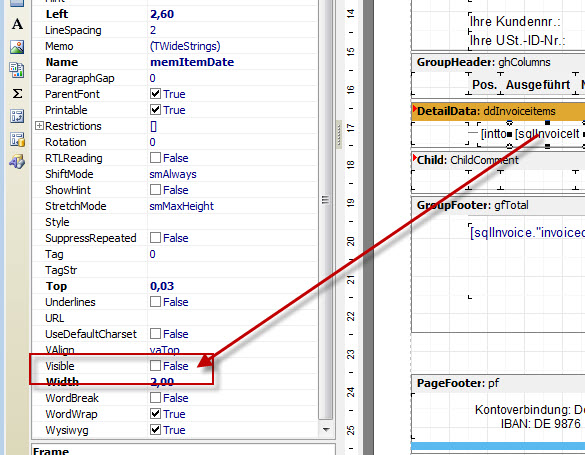 Save your template with its own name, e.g. XT_QUOTE_Example. Make sure you don't overwrite the original, so you can go back at any time.
The same applies here:

Save your template with a custom name to avoid an update overwriting your template. If your template has been overwritten accidentally, then you will find a backup in the program directory -> Backup -> Reports.