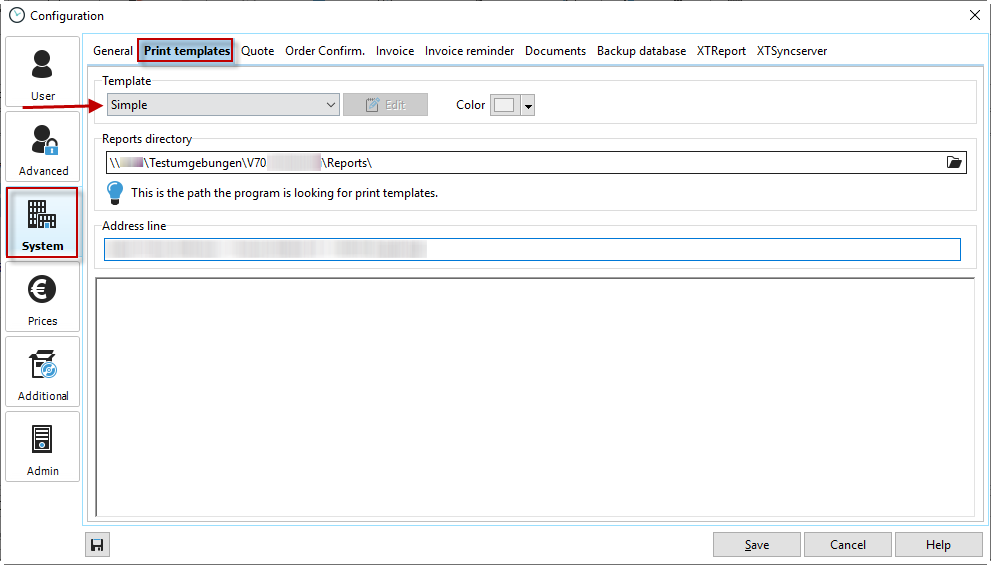 This directory contains your standard reports as well as all reports that you have created with the Fast Report Template Designer. Please note that the file names of the reports have to start with XT_BASE_, so that Xpert-Timer offers them in the drop-down menu.

If you customize your print template yourself, you should provide it with an individual name, eg. XT_BASE_company_name. Otherwise, it could happen that your template will be overwritten during an update. However, a copy of the template is saved in the folder "Backup -> Reports" during the update. So you can restore it anytime.
The Xpert-Timer provides you with some print templates after installation. If necessary, you can change these to suit your requirements. In this tab you already have the opportunity to replace your address with that of "Dieter Demo" and integrate your logo.
Edit report template
To change the colors of the template, you must start the report generator.
Click on the "Edit" field to the right of the template selection. A report generator named FastReport opens, with which you can only adjust the graphic elements such as lines and backgrounds of the report. You can only influence the output data by means of the program by filtering the data accordingly and showing or hiding columns.
The colors must be adjusted via the "Styles" in the "Report" menu. In the FastReport Template Designer, click on the menu item -> "Report" -> "Styles".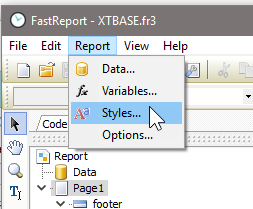 You can edit the color, the font and the frames of the areas. Make sure you save your changes, using the green check.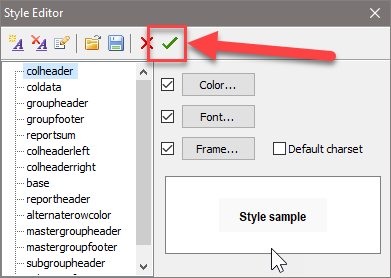 Following areas can be edited:
| | |
| --- | --- |
| colheader | = Column headers |
| colheaderleft | = Part of "colheader" and should be formatted the same way |
| colheaderright | = Part of "colheader" and should be formatted the same way |
| coldata | = you can only edit the font and font size here. No colors possible. |
| groupheader | = Groupings like "Group by date" headers |
| groupfooter | = Sums of groupings |
| reportsum | = Sum at the end of the report |
| base | = Address line as well es footer line with print date and page # |
| reportheader | = The area, which includes the date range of the report, the user name and the project name |
| alternaterowcolor | = Every second line in the report has a color for better visibility. This is the background color of every second line. |
| mastergroupheader | = Group headers, e.g. Users |
| mastergroupfooter | = Sum of the group with mastergroupheader, e.g. Users |
| subgroupheader | = not changeable |
| subgroupfooter | = not changeable |
Make sure you save your new template with a new name. The new name must start with either XTINVOICE_ or XTBASE_ in order to appear in your drop down list.