The administration program XTAdmin helps you to set up and manage one or more databases.
Here you can:
1.Set up database access for
•SQLite databases
•Microsoft SQL Databases
•MySQL Databases
2. Manage users (Add / Delete), View applications
3. Specify the login mode of the users
4. Reset all data tables to create a new database
5. Import or Export Data
6. Maintain the database (execute SQL commands, permanently delete deleted data records, set server IP, retrieve deleted project)
7. Perform a backup using Access and SQLite databases.
8. Import a software update using the XTUpdater.

Hint
Only the administrator of the database should have access to this program, as this can make serious changes to the Xpert-Timer system. If you are using a multi-user access database (MS-SQL Server), it is best to install only the client version of Xpert-Timer on a shared network (Minimal installation).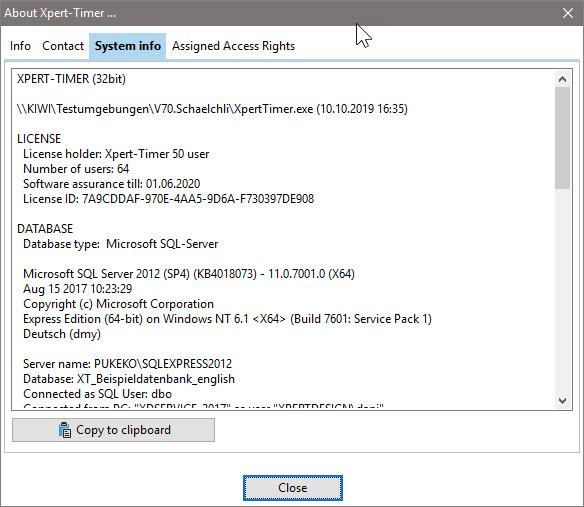 In the system info you can see all relevant data of your connection. Please make sure that the patch level of the program and the database match. If this is not the case, then click Update DB structure in the "Maintenance" tab.