Xpert-Timer allows you to assign tasks to other employees in the team. Simply enter the corresponding employee name as the recipient of the task.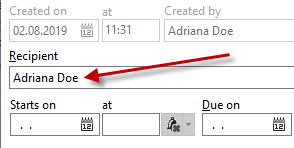 The employee then receives a message indicating that there is a new task for him. At this point, you can also finish the task immediately, edit, start or delete it.

General task pool
If no employee is defined as the recipient, the task ends up in the general task pool and is visible to every employee. This allows employees to take on and complete a task.
You can use the "Task pool" button in the task list to display the public tasks and to accept a task by right-clicking on the task.