To create a new price list, click on "New Price List" and assign a descriptive name.
Define the validity date in the "Details" tab. The end date of validity is not mandatory.
Any discount selected will apply to all billing records.
Then select the currency of your price list, for example, if you have customers abroad and, if necessary, give a brief description of the price list.
The option "Use daily / time-dependent tariffs" is included in the second picture.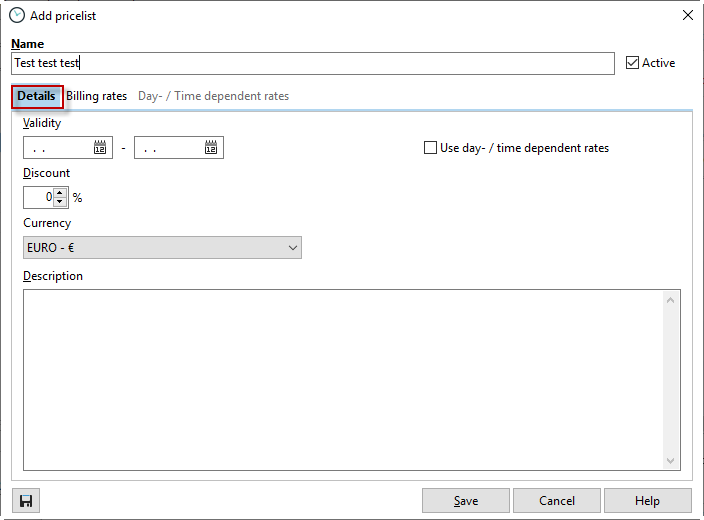 If you have activated "Use daily / time-based tariffs" in your new price list, the corresponding tab in the dialog becomes active and you can make entries.
Enter the appropriate validity period for your billing records in the tab "Daily / Time-Dependent Rates". You can specify when exactly the prices of your new price list should apply. So you can, for example, special surcharges for overtime, weekend work or holidays. Use the factor.
Then switch to the tab "Billing records". Here you select from the existing price groups that you have created in the Pricing area under the Price Groups tab in the configuration and assign the corresponding settlement rates: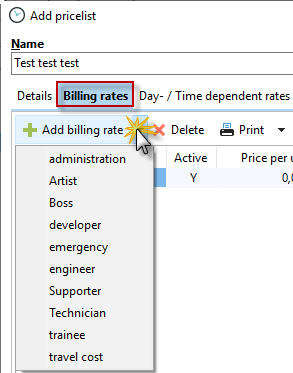 After choosing a price group, you can enter the price per unit and all other entries directly in the displayed list.