Over the menu button ''View'' -> ''Show/Hide activity report'' you and show or hide your activity report. If you want to see the activity report of all projects, put a check in front of ''all projects''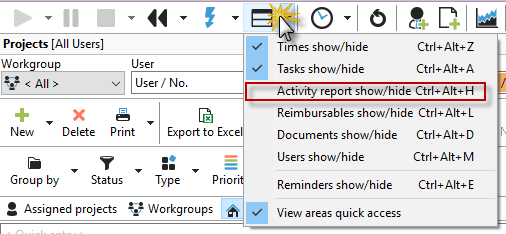 In the bottom picture you can see the check box ''All projects'' on the right side.

A right click on the entry gives you the possibility to edit it.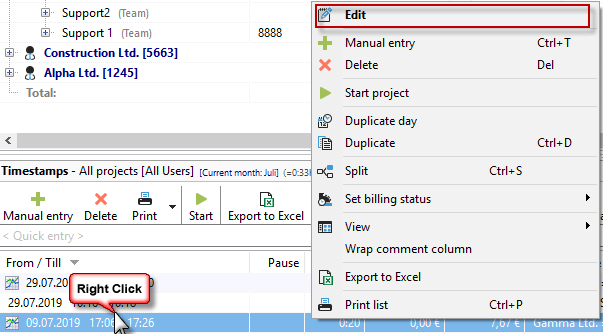 You can use the activity report independently of the time stamps. That might be interesting for users that do want to know what has been done to finish the project but that don't care about the exact time.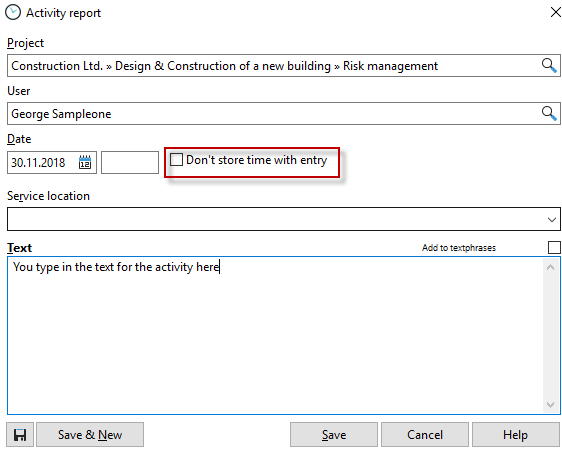 Via right click on the activity report entry you can show or hide the times.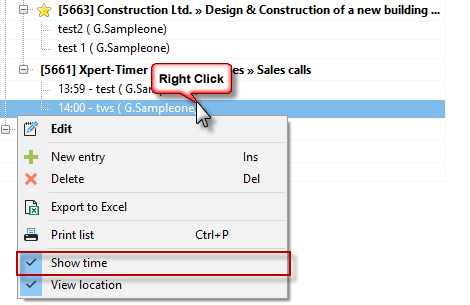 In the project properties (Double click on a project in the project manager), in the tab Activity report you can as well find the activity report for every project.

With a click on the green plus you can manually add a activity report, or you can use the keyboard shortcut Win+F2 in order to add a entry manually. With Strg+Enter you can save the entry.

If you right click in the area of the activity report or in the area of the time stamps, you get a context menu, which gives you the possibility to edit, delete or print the entries. Depending on the area, this menu varies from the content, but is available in almost all places. So, in the Xpert Timer, click the right mouse button more often.
You can easily edit the comment with F2 or clicking on the field. You can also copy it and add it to your text phrases . In order to do it, click with a right click into the comment field.
The difference between the timestamp comments and the activity report
The difference between the timestamp comments and the activity report

The comments in the time stamp menu are always depending the time stamps. Activity reports depend on the project but not on timestamps. You have to decide on your own which kind of documentation you prefer. If you have to show your client an exact listing of the timestamps, then the comments are probably better. If you only use Xpert-Timer for an internal activity recording, simply having a activity report in the projects could be enough.